The Name Says It All
"ON-SITE"
ALARM SCREENS
Alarm screens built-to-order right at the job site
No more wasted trips.
No more measuring, re-measuring, headscratching or finger pointing.
No more waiting and waiting for screens to be completed, picked up and delivered.
Business to business with Licensed Alarm Companies only.
Here's how it works:
You contact On-site Alarm Screens so we can schedule a time to be on the job-site at the same time as your alarm system installer. (Three screen minimum for on-site service, must be within our service area)
Let On-site Alarm Screens know how many screens, what kind of material and size. Specify re-build from existing screens or build-from-new, and any other special requirements.
On-site Alarm Screens arrives at the job site at the scheduled time and sets up our "shop-on-wheels."
We walk the job TOGETHER, marking the screens for lead and tamper locations. Then the screens go out to our truck were we get started.
The screens are built and completed on-site and handed to your installer for an on-time completion.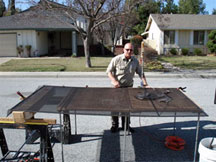 Contact us for current pricing:
On any standard window screen, up to 48" X 60", rebuilding of existing screens or building of new screens. Also call for prices on large screens or custom orders.
Traditional shop-built orders are also accepted.
(Trip charge may apply to some outlying areas)

Call: (209) 640-1806 E-mail: on-site@sonic.net